Missouri offers many scenic routes for motorcyclists, including winding roads through the iconic Ozark mountains and the breathtaking St. Louis Loop tour. As much as motorcyclists enjoy the exhilarating open-air experience of a ride in Missouri, that same unenclosed, unencumbered design of a motorcycle leaves riders vulnerable to severe injuries in an accident—with especially high levels of risk for those riding without a DOT-approved helmet. Missouri saw 151 motorcycle accident fatalities in 2021, an astonishing 23% increase over the previous year. According to the CDC, helmets reduce the risk of fatality in a motorcycle accident by 37% for riders and 41% for passengers. Before you plan a motorcycle tour in Missouri or plan to use your gas-saving motorcycle for your daily commute to work or school, it's important to understand the helmet law requirement in Missouri.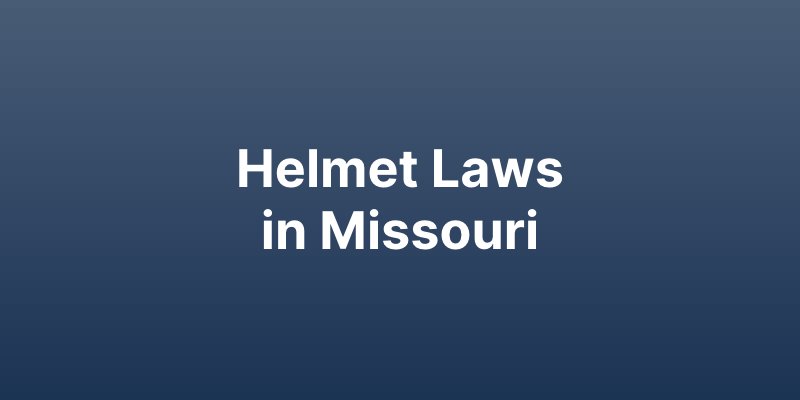 Do I Have to Wear a Helmet in Missouri?
Missouri is one of 18 states with a universal helmet law requiring all riders and passengers under the age of 26 to wear helmets while riding on Missouri highways. Riders over age 26 must also wear a helmet if they don't have health insurance. In Missouri:
Riders and passengers over the age of 26 do NOT have to wear a helmet if they have health insurance coverage
Riders and passengers under age 26 must wear a helmet on a motorcycle at all times, regardless of their health insurance coverage status
Any rider carrying only an instruction permit must wear a helmet at all times regardless of their age and health insurance status
Under this statute, the state considers "motorcycles" as any vehicle operating on two wheels, or on three wheels with handlebars, with the exception of electric bicycles.
Enforcing Missouri's Helmet Laws
While Missouri law demands that riders under age 26 wear a helmet at all times, this is a secondary violation only. This means that law enforcement officers cannot pull over an unhelmeted motorcyclist solely to check if they are over the age of 26 or if they have health insurance coverage. However, if an officer detains a rider for a traffic violation, they may then ask for proof of helmet law exemption status and issue a citation if the rider isn't in compliance with the Missouri helmet laws. For example, if a motorcyclist rolls through a stop sign and an officer pulls them over, they may then request proof of the rider's exemption status if they aren't wearing a helmet.
The helmet law in Missouri requires riders subject to the helmet law to wear helmets weighing at least 3 pounds, have a one-inch thickness, a foam liner, and chin straps. Approved helmets have a DOT sticker on the back.
Why Wear a Helmet in Missouri?
Until August 2020, Missouri had a universal helmet law that required ALL motorcycle riders and passengers to wear helmets, regardless of their age or health insurance status. This law was previously enacted in 1967. Missouri state legislature relaxed those laws on August 28, 2020, resulting in a 23% rise in motorcycle accident fatalities in 2021. Helmets substantially lower the risk of suffering a traumatic brain injury in an accident; however, the law does not prohibit accident victims who sustained injuries while lawfully not wearing a helmet to seek compensation when someone else was at fault for their motorcycle accident.