At The Floyd Law Firm, we help families seek justice and move forward after tragic and unexpected deaths. Our St. Louis wrongful death attorneys can guide your family through the legal process with personalized services and one-on-one attention. Contact us to start with a free initial case consultation.
No family ever anticipates losing a loved one in a traumatic accident. Unfortunately, this is the reality for dozens of families in Missouri each year. Many fatal accidents are caused by negligence, or the failure to use reasonable care.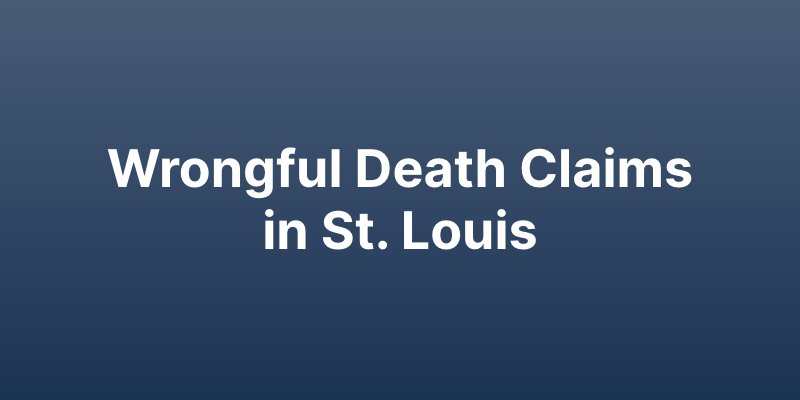 How Our St. Louis Wrongful Death Attorneys Can Help
Handling a wrongful death claim may be too much to deal with while also trying to cope with the devastating loss of a loved one. You do not have to go through this alone. An experienced wrongful death lawyer in St. Louis can make the legal process simpler, more rewarding, and as stress-free as possible. Your attorney can provide legal advice that you can trust during this difficult time, as well as represent you during negotiations with an insurance company.
Hiring an attorney improves the chances of achieving a fair financial settlement, as an insurance company will not be able to take advantage of you or offer less than your family deserves. Even more importantly, your attorney can give your loved one a voice in the civil justice system. Our St. Louis wrongful death lawyer will work hard to hold one or more parties accountable for a preventable loss of life. Your family can benefit in many ways from having an attorney in your corner in the fight for justice.
Missouri's Wrongful Death Laws
Unlike criminal court, which serves to punish wrongdoers, a wrongful death claim is a civil court matter intended to compensate victims for damages. A wrongful death claim is independent of any criminal justice case also brought against the at-fault party and doesn't depend on the criminal court's guilty verdict. Many wrongful death claims proceed in cases with no criminal charges against the individual or business that caused the death.
Missouri has laws in place to ensure that surviving family members can seek compensation from the party at fault after a loved one's death. Below are the important laws governing wrongful death claims in Missouri:
"Wrongful death" in Missouri statutes refers to any death in which the deceased individual could have filed a personal injury claim if they'd survived the injury
Only an immediate family member may file a wrongful death claim in Missouri. This ensures that distant family members don't attempt to profit from the death, but instead, the claim compensates immediate family members for the loss of a provider
There is a time limit on how long after the death the family member can file a claim. This serves to preserve evidence availability should the case go to court
Only immediate family members may file a wrongful death claim in Missouri
Damages awarded in wrongful death cases in Missouri cover both economic damages like medical expenses and non-economic damages like grief and anguish
Missouri places no cap on wrongful death compensation except in cases of medical malpractice in which the law imposes a limit on non-economic damages
The burden of proof in a wrongful death case is on the decedent's family, who must prove the at-fault party liable by a preponderance of evidence—or by showing that it's more likely than not that the negligent or reckless action caused the death
If you have questions about your wrongful death case, your St. Louis wrongful death attorney can help.
Damages Available for a Wrongful Death Claim in St. Louis
A wrongful death claim aims to provide surviving family members or the deceased person's estate with financial compensation to protect them from absorbing the cost of the death. This would be unfair to the decedent's surviving relatives if someone else is responsible for causing the death. At The Floyd Law Firm, we fight for the maximum possible financial compensation on behalf of our clients for a loss as final and devastating as wrongful death. Available damages may include:
Funeral and burial costs
Final medical bills
Wages and benefits that would have been earned
The decedent's pain and suffering
The family's grief and mental anguish
Loss of companionship, comfort, and consortium
The potential value of a wrongful death claim depends on the circumstances, such as the age of the deceased person, the number of liable parties, and the insurance coverage available. When you hire a St. Louis wrongful death attorney, you can rest assured that every effort is being made to maximize your family's financial recovery. While we know that no dollar amount could ever equal the life of your loved one, we also hope to make it easier for your family to plan for the future by achieving a fair financial settlement or judgment award.
Who Can File a Wrongful Death Claim in Missouri?
According to state law, the only parties eligible to file a wrongful death claim in Missouri are the deceased person's surviving spouse, parent(s), child, or children, or – if the children are deceased – grandchildren.
If none of these parties exists or survives, second in line to file a wrongful death claim is a surviving sibling or his or her descendants. If there are no surviving siblings or nieces or nephews, the court will appoint a "plaintiff ad litem" to bring the claim. This is someone who must be requested by a person who is entitled to share in the proceeds of a wrongful death settlement or judgment award.
What Is the Deadline to File?
Under Missouri's statute of limitations for a wrongful death case, a lawsuit must be brought within no more than three years of the date of death. With only rare exceptions, if a claim is not filed within this timeframe, the courts will dismiss the case and bar surviving family members from recovering financial compensation. This is why it is critical to contact an attorney as soon as possible after losing a loved one in a traumatic accident in St. Louis. If you wait too long, you could lose the right to hold someone accountable forever.
What Is Wrongful Death?
While every state has its own precise language defining wrongful death, it is typically a death caused by someone else's wrongful, negligent, or reckless act. In general, if a reasonably prudent person would have been able to prevent the circumstances that caused the victim's death, the person or party involved can be held financially responsible (liable) with a wrongful death claim.
Revisor of Missouri Section 537.080 states that if the circumstance surrounding the death of a person would have entitled him or her to recover damages had death not ensued, certain surviving family members or a representative can bring a legal action for wrongful death against the same person or party who would have been held liable in a personal injury claim.
When Should I Contact an Attorney?
When it becomes clear that your loved one's death was preventable and wouldn't have occurred if only someone else had taken reasonable measures to prevent it, it's time to hire an attorney as soon as possible to begin your claim. A wrongful death attorney will take prompt action to gather and document evidence in the case. Preserving evidence while it's available is critical in a successful claim for wrongful death.
Beginning work on your wrongful death claim as soon as possible helps expedite the claim process to ensure you get a settlement or have time to go to court before the statute of limitations expires. It also helps to avoid the financial hardship associated with losing a family member who was a provider.
Common Causes of Wrongful Death in St. Louis
Many different circumstances could give surviving family members grounds to pursue a wrongful death case in St. Louis, Missouri. State law has a broad definition of wrongful death: any act, conduct, occurrence, transaction, or circumstance which would have entitled the decedent to recover damages had death not ensued. This means your family may be able to file a lawsuit after many types of fatal accidents, including:
Accidental poisoning
Act of violence
Catastrophic fall
Criminal act
Dog attack
Medical malpractice
Motor vehicle collision
Nursing home abuse or neglect
Truck accident
Workplace accident
No matter what circumstances surround your loved one's death, consult with our St. Louis wrongful death lawyers to find out if you have grounds for a wrongful death claim. If so, we can help you determine the cause of the fatal accident and identify the liable party or parties. From there, we can file legal paperwork to initiate a claim on your behalf before Missouri's filing deadline. We can also search for and collect evidence to help you prove your case.
How Do I Prove Negligence in a Wrongful Death Case in St. Louis Missouri?
When an individual or business entity causes a loved one's death due to their reckless actions or negligence, they must pay damages to the surviving family members. Compensation typically comes from the at-fault party's insurance policy not from their personal funds. For instance, if a family member dies due to a medical mistake, the provider's medical malpractice insurance covers the damages. In a car accident death, the negligent driver's auto insurance policy pays out on a successful claim. Before an insurance company pays a claim, it's up to the claimant in the case to prove liability for the wrongful death. Proving liability requires documenting evidence of the following legal points of liability:
The at-fault party had a duty of care to take reasonable measures to prevent injury to others
They breached this duty through an act of negligence, recklessness, or wrongdoing
The negligent breach of duty directly caused the death
The surviving family members suffered significant economic and non-economic damages due to the death
It takes a skilled personal injury attorney to gather clear evidence of liability. If the case goes to court, the injury victim (plaintiff) must prove liability by a preponderance of evidence. If the insurance company sees clear evidence of their client's liability for the death in the demand package sent by the family's attorney, they are much more likely to offer an ample settlement for the damages so the family members never have to see a courtroom.
Contact Our St. Louis Wrongful Death Attorneys for More Information
At The Floyd Law Firm, we put family first. We are a father-son team of attorneys who understand the immense suffering caused by the death of a loved one. We are here to help you as much as possible during this difficult and emotional time. Learn more about your legal rights during a free case consultation with our St. Louis wrongful death lawyers. Call (314) 863-4114 or contact us online today for more information.