A motorcycle accident can lead to significant uncertainty about your future. You do not have to face what comes next alone. At The Floyd Law Firm, our St. Louis motorcycle accident attorneys can provide the legal advice and assistance you need to recover from your collision with greater peace of mind.
We are highly knowledgeable attorneys with over 50 years of experience in personal injury law. We understand how motorcycle accident claims work in Missouri and will guide your family through each step of the recovery process. Contact us today for a free consultation.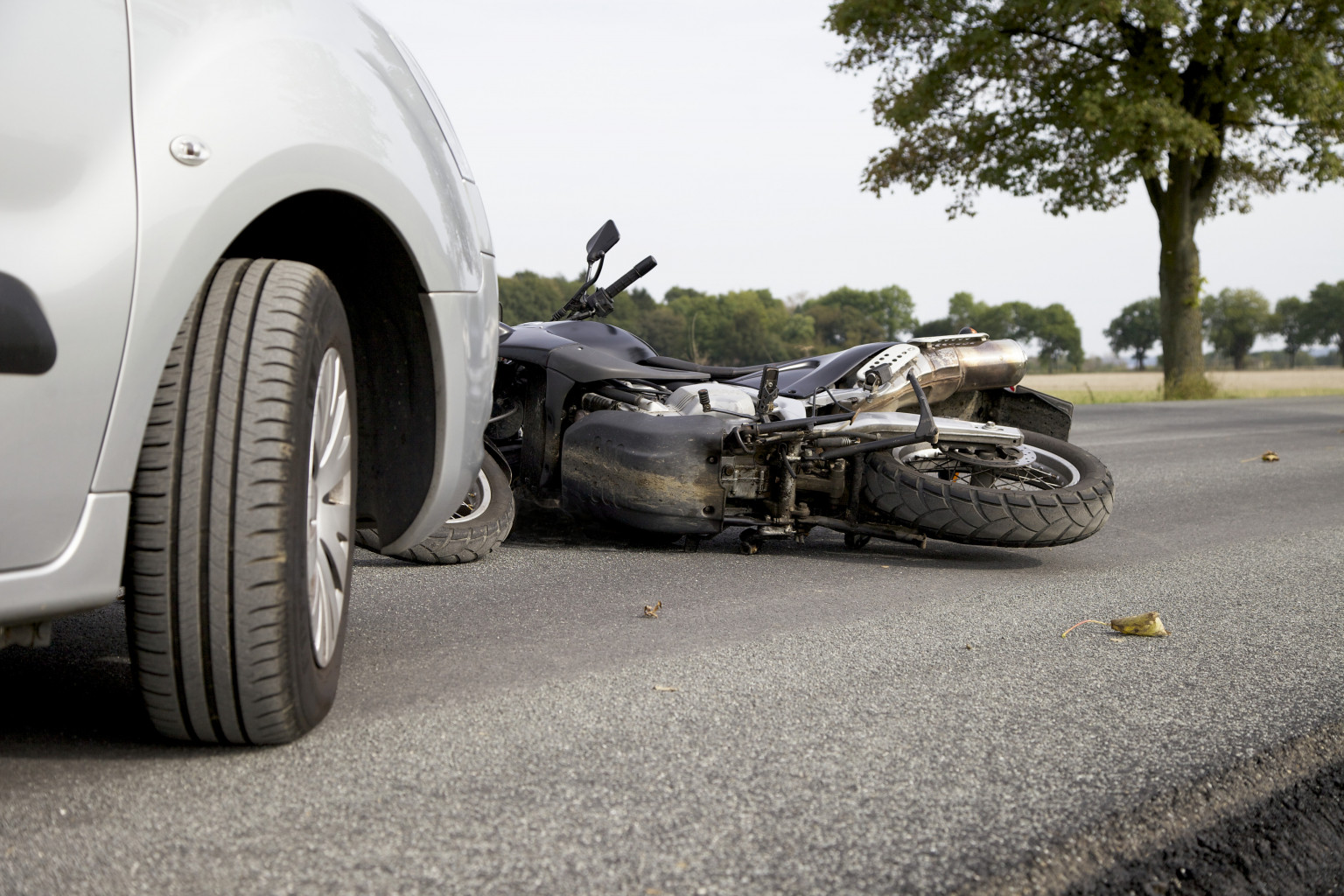 Why Should I Hire a St. Louis Motorcycle Accident Lawyer?
You have a lot at stake as a motorcycle accident victim in St. Louis. The best way to protect your rights and future is to hire an attorney to represent you after the crash. You can trust your St. Louis accident attorney to have your best interests in mind during claim negotiations or a motorcycle accident trial. Your lawyer will use high-quality legal services to aid in your recovery.
An attorney will investigate your motorcycle crash, determine the liable party or parties, collect evidence, hire highly qualified experts, and take many other steps to make sure you have everything you need during this difficult time. You can heal, relax and start building your future while your lawyer takes care of the legal process for you.
What Damages are Available for a St. Louis Motorcycle Accident?
A motorcycle accident can result in thousands of dollars in costs and losses for a victim. If you are not at fault for a crash, our lawyers believe you should not have to pay. We will work diligently to pursue financial compensation from one or more parties on your behalf. You may be entitled to the following types of damages, and more:
Past and future medical bills
Pain and suffering
Property damage
Lost wages
Lost future earning capacity
Disability expenses
Loss of consortium
Wrongful death damages, if applicable
Punitive damages, in rare cases
Discuss the potential value of your motorcycle accident claim with one of our attorneys. While an insurance company may try to minimize your payout, we will fight for the best possible results for your case. Our St. Louis motorcycle accident attorneys both have 98-percent recovery success rates on personal injury claims they have handled.
How Long Do I Have to File a Motorcycle Accident Claim?
Most motorcycle accident victims file a claim for compensation once they have a good idea of the full extent of the economic damages they're facing. This gives their accident attorney ample time to investigate the circumstances of the injury to determine the liable party, document evidence of liability, and calculate the damages to begin negotiating a settlement with the insurance company. Only if the insurance company wrongfully denies the claim or seriously underestimates its value when making a settlement offer does the claim move on to court in a lawsuit.
Missouri has a 5-year statute of limitations for personal injury lawsuits, including motorcycle accident cases. Five years from the date of the accident is a generous amount of time for the claim process to play out and still allow time to file in court if necessary.
Common Motorcycle Accident Injuries
When a motorcyclist gets into an accident, he or she may suffer life-changing injuries. These collisions are often catastrophic in the amount of damage inflicted on a rider and his or her passengers. The human body cannot withstand the forces exerted upon it in a vehicle collision. Without a seat belt, airbag, or metal shell for protection, motorcyclists are highly vulnerable to serious injuries.
Examples of these injuries include:
Broken bones
Soft-tissue and muscle damage
Bruising and contusions
Internal injuries and organ damage
Skull fractures
Traumatic brain injuries
Back and spine injuries
Paralysis
Road rash
Significant scarring or disfigurement
Permanent disability
Wrongful death
A St. Louis personal injury lawyer at The Floyd Law Firm can help you with any type of injury claim after a motorcycle crash in St. Louis. If you or a loved one was diagnosed with a catastrophic injury – meaning one that will have a long-lasting or permanent effect on your life – it is even more important to contact an attorney for legal advice, as an insurance company may try to take advantage of you by offering less compensation than you deserve.
What is My Motorcycle Accident Case Worth?
Motorcycle accidents cause significant damages both to the motorcycle and the victim's health. These consequences can be financially, physically, and emotionally devastating. A personal injury claim helps achieve a sense of justice as well as financial compensation.
The amount of a settlement or court award varies widely, depending on the seriousness of the injury and whether or not it caused temporary or permanent disability or only temporary inconvenience and painful medical procedures. Your St. Louis motorcycle accident attorney can give you an idea of what kind of settlement you might expect for your unique accident and injuries.
The average payout on a motorcycle claim for medical expenses, lost wages, and pain and suffering is approximately $73,000. Your compensation could be more or less than that amount depending on your damages.
With Missouri's comparative negligence laws, motorcyclists can still recover a portion of their damages even if they were partly at fault for the motorcycle accident. The payout on the claim will be minus the percentage of your fault. For instance, if you're found to have been 15% at fault because you were exceeding the speed limit by 5 mph, and the claim amounts to $100,000, you can still recover $85,000.
When Should I Contact an Attorney?
Accidents sometimes happen no matter how experienced a motorcyclist may be. If the accident occurred due to your mistake or error in judgment, you're responsible. However, the majority of motorcycle accidents occur due to a negligent driver. Call a motorcycle accident attorney in St. Louis if any of the following is true in your accident case:
A negligent or reckless driver was at fault or mostly at fault for your accident
A defective part on your motorcycle caused the accident
Your accident was caused by a malfunctioning traffic signal or poorly maintained roadway
You've suffered significant damages, including expensive medical care, lost time from work, and property damage
Drivers, product manufacturers, and road maintenance agencies all owe a duty of care to take reasonable measures to prevent injuries. If they breach this duty through negligence or reckless driving, they're responsible for your damages—typically paid through the appropriate insurance policy.
What Should I Do After a Motorcycle Accident in St. Louis?
If you've suffered serious injuries in a motorcycle accident in St. Louis, you may be able to do little other weight in place for help to arrive. However, many accident victims use their smartphones to gather evidence at the scene. If you are unable to move without causing further injury, you can hand it to someone at the accident scene to use for you. Protect yourself at the scene by doing the following:
First, call 911 to report the accident and request emergency services
Take photos of your damaged motorcycle and any damage to the other vehicle
Photograph the scene of the accident, including relevant factors like intersections, signal lights, and signs
Take photos of any visible injuries
Add the contact information of the involved driver and any eyewitnesses
Record yourself recounting what you remember about the accident—trauma may fade these memories later
At the hospital, undergo a thorough medical evaluation and tell the doctor about all symptoms, even if they seem minor. Ask for a detailed medical report with your doctor's recommendations for treatment of the injuries and your prognosis. Then, ask for a copy of the police report and call the motorcycle accident attorneys at The Floyd Law Firm. Avoid posting on social media until after the settlement of your motorcycle accident claim.
What Causes Motorcycle Accidents in St. Louis?
Motorcycle accidents are often caused by human error. Motor vehicle drivers may not pay enough attention to the road, for example, and may fail to see an oncoming motorcyclist. A motorcyclist could also get into an accident caused by a third party, such as a motorcycle manufacturer or the government responsible for road maintenance. Common causes of motorcycle accidents include:
Driver Error
Driving under the influence of drugs or alcohol, distracted driving, failure to notice a motorcycle, cell phone use, dangerous left-hand turns, failing to yield the right-of-way, drowsy driving, running red lights, or following a motorcyclist too closely.
Motorcycle Defects
Bad brakes, tire defects, blowout accidents, fuel system issues, frame or handlebar defects, malfunctioning electrical system, broken headlight, or a dangerously defective motorcycle design.
Dangerous Roads
Potholes, cracks, uneven shoulders, road deformations, missing guardrails, missing reflectors, broken streetlights, storm debris, dangerous construction zones, loose gravel, yard clippings, downed tree branches, and other dangerous road conditions.
Do not admit fault after getting involved in a motorcycle accident. Call 911, then wait for the police to arrive and investigate the cause of the crash. If you are not sure what caused your accident, consult with our St. Louis motorcycle accident lawyers. We can revisit the scene of the crash, interview eyewitnesses, review the police report and hire crash reconstruction experts to determine what caused your accident.
How to Prove Liability in a Motorcycle Accident
Missouri is a fault-based or tort-based car insurance state. This means that after a motor vehicle accident, injured victims are able to hold the at-fault party financially responsible, or liable, for their losses. After a motorcycle collision, a negligent driver may be held liable for the rider's medical bills and property damage. If you file a claim with a driver's car insurance company, however, your lawyer will need to prove that that driver caused your accident.
Your lawyer must show clear and convincing evidence that the driver owed you a duty of care, breached or violated this duty with a negligent act, and caused your motorcycle accident. All motorists have a duty of care to drive with reasonable prudence. This involves paying attention to the road, respecting others' rights to the road, and obeying traffic laws. If a driver falls short of these duties and causes a motorcycle crash, he or she can be held liable for related damages.
What is My Motorcycle Accident Claim Worth?
The value of your claim for damages depends on the severity of the injuries you sustained and the impact of the injury on your ability to earn a living and perform daily routines. Motorcycle injuries range from catastrophic and life-altering, to less serious injuries that may still require medical treatment and some time off of work. Your Missouri motorcycle accident attorney will evaluate your unique claim and give you an idea of what you can claim for your non-economic damages like pain and suffering, while adding up the more tangible damages like your medical expenses and the amount of income you've lost and are likely to lose in the future.
The average motorcycle accident settlement from data gathered between 2015 and 2023 was over $75,000. Keep in mind, that researchers arrive at an average based on the full range of settlement amounts during data collection, including both very high and unusually low amounts.
When Should I Contact My Attorney?
If you've been injured in a motorcycle accident and someone else's negligence or reckless driving caused your accident, you're entitled to compensation for the damages. After you've had a medical evaluation and have a good idea of the cost of your medical expenses and the amount of time away from work you're likely to experience during recovery, it's time to contact an attorney to begin working on your claim to avoid a large gap in your earning.
After an accident, you should hire an attorney before talking to insurance company representatives. Despite their compassionate tones, they are not on your side. Often they use an injury victim's words out of context against them. After you've contacted an attorney for your St. Louis motorcycle accident claim, direct all communication with the insurance company to your lawyer.
Contact a Motorcycle Accident Attorney in St. Louis, Missouri Today
Motorcycle accidents are some of the most harmful collisions in Missouri. If you or someone you love has been injured in a motorcycle accident in St. Louis or the surrounding cities, The Floyd Law Firm can help.
Call us at (314) 863-4114 or contact us online to schedule a free case evaluation. We will listen to your accident story, let you know if your case has merit, and offer personalized legal advice. We stand with motorcyclists in our community and look forward to helping you.